Cascade Kennels Reservations
We are now managing our reservations, booking, and vaccinations through Paw Partner. Check out the free Cascade Kennels app to create a profile for your pet, make reservations, communicate with Cascade Kennels, and upload vaccines!
A 3-night minimum and $100 deposit per dog and a $50 deposit per cat will be required for any peak dates, which you can see here. Deposits are non-refundable within 30-days from the reservation start date.
Due to conditions placed by King County when our original building permit was issued, we are not able to offer pick-up or drop-off on Sundays.
We will not be able to accept your reservation if our records indicate the vaccinations for your pet are not up to date. Please make sure your vaccinations are current in the "Vaccinations" area of your pet profile.
We look forward to seeing you and your pet!
HOW TO MAKE A RESERVATION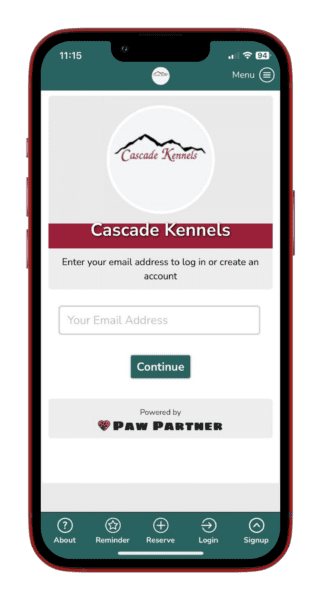 Enter your email address to create an account or link your existing account to Cascade Kennels.
Select the button that says "Make Reservation" to start a reservation request!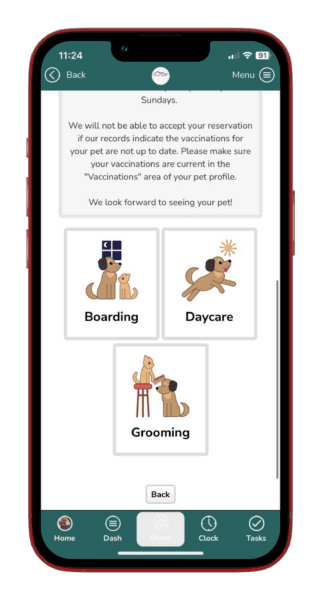 Here you can click boarding or daycare to book your reservation. Although grooming is displayed, you will still need to call our office to schedule a grooming appointment.
4 - Select Pets & Dates of Service
Click or tap the pets you would like the reservation request to be for. You will need to submit separate reservations for each kennel required. For example, if you have two dogs that stay together you can submit them on the same form. However, if they stay next to each other you will need to fill out a request for each dog separately. Dogs and cats will need their own forms filled out separately.
Although there is a section for drop off time, you will not be held to that time. Our ordinary drop off times and pick up times apply, which you can learn more about here!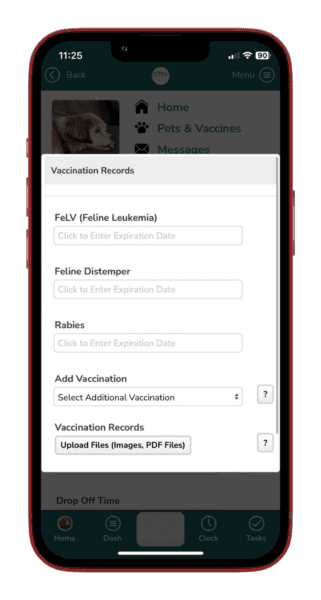 5 - Submit your Pet's Vaccines & Sign Boarding Agreements
We will be unable to accept your reservation if your pets vaccines are not up to date. If your pets' vaccines need to be updates, there will be a yellow pop up at the bottom of the reservation page with a button to upload your vaccines.
To upload, please enter the expiration dates of your pets vaccines in each field. You will also need to upload an image or PDF of the vaccine record from your vet so that we can verify your records.
If you don't have your pet's vaccines yet no worries! You can skip this section.
You will be required to sign our boarding agreements before being able to proceed with the boarding reservation.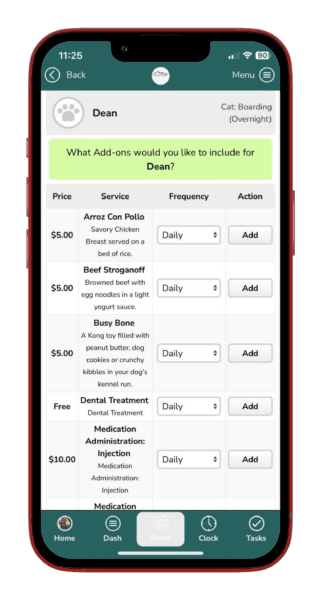 6 - Select your Add-on Services
This is the fun part! Here you will be able to select room service, activities, group play, and grooming options for your pet! Please note that we do not do activities on the day of drop-off or pick-up.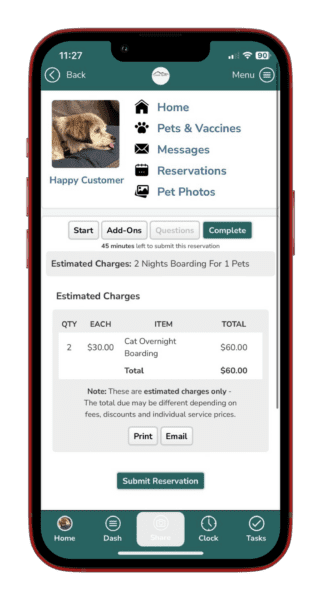 On the final page, you will see your estimated total — which will change based on any activity adjustments made at check in — and be able to submit your reservation. Please note that this is only a request for a reservation and this does not guarantee availability or acceptance of your request.