Our comprehensive dog training department has something for anyone looking for a better relationship with their dog. Using our extensive and diverse experience with a variety of issues and breeds of dog, we are able to address your needs no matter what they may be. In our programs, owners will find themselves learning and progressing just as much as their canine companions. Our goal is to empower dog owners with a solid understanding of training skills and techniques to live happy, cohesive lives with their dogs as a part of the family.
ABOUT ALLIE
Alexandra Lowry has been training dogs professionally for over a decade and has been involved in a variety of dog sports since a young age. She has been involved in many aspects of the pet care industry (boarding, grooming, daycare, pet store supply, professional handler assistance), but training dogs has always been her passion. Teaching people how to more effectively communicate with their dogs is her greatest joy. Allie is a Certified Professional Dog Trainer – Knowledge Assessed (CPDT-KA) with the Certification Council for Professional Dog Trainers and is a Professional Member of the Association of Professional Dog Trainers (APDT). She is committed to using scientifically sound, positive methods to achieve the goal of happy, well-trained dogs.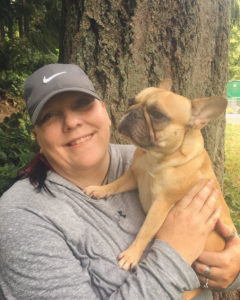 ABOUT DAWN
Dawn Edwards has been a dog trainer for the past 25 years, training and titling in obedience, conformation, rally, agility, tracking and IPO Schutzhund. Helping people and dogs overcome issues that prevent them from living balanced lives is Dawn's passion. Dawn started training and showing horses at a young age. As she experienced success in training horses, it deepened her interest in animal behavior and learning across all species. Her guiding principles as a trainer center around fairness, honesty, respect, structure, communication and trust. Dawn is dedicated to being present, engaged and patient with every client she has, both human and dog. She actively expands her base of knowledge through attending seminars and workshops whenever possible.
OTHER TRAINING OFFERED AT CASCADE KENNELS
Canine Companions for Independence
Canine Companions for Independence trains assistance dogs and places them without charge to children, adults and veterans with disabilities, as well as with professionals working in visitation, healthcare and education settings.  Cascade Kennels provides free training space to The Puget Sound Chapter of CCI where they provide support, learning and social engagement for puppy raisers, 4-H Puppy Power members and individuals working on behalf of Canine Companion's mission.
https://www.cci.org/locations/northwest/puget-sound-chapter/
Funquest Dog Sports
Funquest Dog Sports offers training in K9 Nose Work, a popular dog sport focused on a dog-handler team working through various search and scenting activities.  In a Nose Work class, your dog will have fun by connecting with his/her "inner hunter." Only one dog works out at a time, so this can be a great and accessible sport for dogs who struggle with being around other dogs!
Dogs In Progress
With over 30 years of animal experience, Katie Morrell has gained expertise working with a variety of breeds in canine behavior patterns and training techniques. Katie has extensive experience in many aspects of training including in-kennel board & train, private lessons, group classes ranging from the basics to advanced courses, clicker training, agility, rally obedience and conformation. She also specializes in working with terrier breeds and with problem behaviors, such as aggression.
https://www.dogsinprogress.com/
Seattle FlyDogs
Seattle FlyDogs is a local community club open to membership application by individuals, created with the intent to enrich the lives of dogs and their handlers through the sport of flyball. The club creates public awareness of dog sports and provides weekly drop-in training for all breeds and speeds .
https://www.seattleflydogs.com/
Puget Sound Poodle Club
Puget Sound Poodle Club offers practice handling classes to it's members. Through club participation, networking and being involved, members will find information and resources to help with their poodle variety & ownership.
https://pugetsoundpoodleclub.org/
Conformation Handling Classes
Sheila Allen offers weekly drop-in conformation handling classes. Sheila has been involved in the dog fancy as a breeder and exhibitor for several decades. Handling classes provide an opportunity to practice and learn the skills required to succeed in the show ring.
https://seattledogshow.org/conformation-classes/