Our comprehensive dog training department has something for anyone looking for a better relationship with their dog. Using our extensive and diverse experience with a variety of issues and breeds of dog, we are able to address your needs no matter what they may be. In our programs, owners will find themselves learning and progressing just as much as their canine companions. Our goal is to empower dog owners with a solid understanding of training skills and techniques to live happy, cohesive lives with their dogs as a part of the family.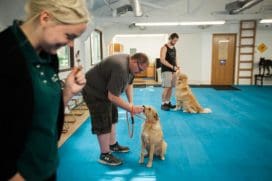 Board & Train is a great training solution for people having trouble finding the time to work with their dog, want to give them a jump start on good manners, or are dealing with difficult behavioral issues.
**We are not currently offering group classes. Stay tuned for our next session!** Group classes offer a fun, safe environment for you and your dog to learn how to work together as a team in a number of ways and in distracting environments. 
Puppy Sessions are a private lesson catered specifically to your puppy's individual needs and can cover a wide spectrum of topics and behavioral concerns. Puppies eligible for these lessons are between 16 weeks to 10 months old. 
Day Training is a great option for younger dogs building basic skills and older dogs needing a little fine-tuning. Drop your dog off in the morning to work with one of our professional trainers throughout the day.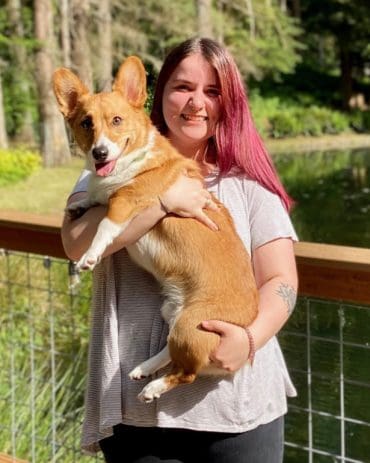 Lizzi is an experienced dog trainer with a true passion for her craft. Participating in conformation handling and competitive agility from a young age, Lizzi began working with dogs professionally as soon as she was able. Caring for dogs in a boarding setting for many years gave Lizzi experience with a wide range of dog breeds, temperaments, health conditions and behavioral issues. This basis of knowledge and experience was the perfect launching pad for her career in dog training.
Lizzi has been living and breathing training since 2019. Her first dog sparked her passion for training. He was highly reactive with dogs and people, didn't listen, and was very mouthy due to overstimulation. After trying countless training methods that failed, she did her own research and found that balanced training set her dog up for success.
That's when she found that for balanced training to be a success you need a solid routine, consistency, and a strong relationship with your dog. She has helped families overcome issues including reactivity, resource guarding, introducing a new puppy into the family, proper use of equipment such as crates and muzzle training when necessary, aggression, preparation for competition and more.
I cannot say enough good things about Lizzi and her board and train program at Cascade Kennels. My dog, Harley, had some issues with over excitement, playing tug with her leash on walks, and general puppy craziness. Lizzi was able to harness her energy into obedience and after 30 days had greatly improved. Harley now stays directly at my side on walks, listens to commands on first request, comes when called, and minds her place when asked! During the program Lizzi makes sure to send pictures and updates so you don't feel too guilty with your dog away for so long. The videos of her working with Harley were not only fun to watch, but helped me prepare for how to continue training Harley. The training sessions during the board and train were excellent and Lizzi really works with you to understand how to work with your dog. The continued training sessions are also great to refresh commands that need more work, and even learn new ones. Lizzi is incredible at her job and Harley and I are so lucky to have participated in her board and train program. I would recommend this program to anyone.

The board and train program with Lizzi at Cascade Kennels changed our life! If you have a reactive/anxious/nervous doggo, send them to Lizzi!


Our 9 month old German Shepard pandemic puppy was quite a challenge to manage prior to training. Lots of playful nipping, and nearly impossible to take on walks due to excessive pulling. My wife was even afraid to take the dog on walks without me. After a 4-week training with Lizzi we had a brand new dog! He was well behaved, followed commands, reliably sat and stayed and was much easier to take on walks and hikes. Our dog clearly liked Lizzi and was very comfortable with her. Lizzi also did a great job training us-his owners. Would definitely recommend Lizzi to anyone looking for training.
My boyfriend and I came to Lizzi a few months ago in a desperate attempt to help us with our 3yr old rescue Pit Bull. We put him through a month of board & train, after two weeks we came back & couldn't believe we already saw a change!! We continued to come back for training even after we picked him up because Lizzi is a fantastic trainer!! The knowledge she has about dogs is astounding and that's what makes her so amazing. She is so patient not only with our dog, but with us. Neither of us had any experience with a reactive dog so we felt very lost. We can't say enough great things about Lizzi, she saved our lives and probably our dog's life too. We are forever grateful for her, she is the only trainer we trust and look forward continuously working with her!

Lizzi was an awesome dog trainer from day one. I welcomed a Miniature Australian Shepard into my life in May 2020. By June, I knew I needed help achieving good manners and a confident Aussie. Lizzi was the dog trainer to help me through the entire process. Juneau completed two separate board and train programs at Cascade Kennels, about one year apart from each other for two weeks each. It was a wonderful experience, seeing her grow and mature, while also growing in confidence throughout the process. Lizzi was quick to help and answer questions from the start. We met at movie theaters, parks, and nurseries around the area, and I never felt rushed or hurried away for any reason. We also spent significant time at the training classroom letting Juneau interact with other dogs and honing in great behavior that can give me comfort taking her to new places and meeting new people. Lizzi was always available for advice and booking training appointments was easier than ever. She kept me updated on progress during the board and trains, and even sent photos while she was there for the occasional day training! I highly recommend sending your pup Lizzi's way if you are looking for a great trainer who takes the time and has the patience and knowledge to help become the best dog they can be!
From a young age, I knew Mina had some anxiety and didn't like to be separated from people. After she turned one, it became clear to me that her needs exceeded my capabilities. She was incredibly nervous, lacked confidence and would easily scare. She couldn't listen to me because she was so distracted by and nervous about her environment. I was at the point where I didn't know if I could support Mina in the ways she needed.

I searched for board and train programs in Oregon and Washington, and reached out to Cascade Kennels. Lizzi talked with me for an hour about what I'd noticed with Mina. She really listened to me and was able to ease my mind about what was possible for Mina. We booked a board and train program for a few months out, and she gave me some advice on things to start doing differently at home.

I was very nervous about leaving Mina for a month, but Lizzi answered all my frantic questions about how things were going and regularly sent me updates and pictures. Her strong communication really eased my mind.

Mina's been home for four months and I'm still so impressed by her increased ability to listen. She still has some of that puppy energy (she's almost 2!), but Lizzi established a foundation of listening that has made all the difference. Mina knows the expectations I have of her and she works so hard to follow through.

We have a solid walk routine, an extended place and Mina defers to me regularly. She's also more confident in herself. I didn't think any of that was possible before Mina worked with Lizzi.

Over the last four months, I've reached out to Lizzi when I've had questions about how to proceed with different situations. She's been incredibly helpful and so patient with me. Her support has helped me become and remain resilient. Because of Lizzi, I understand what Mina's needs are and how I can best meet them.

As I write this, Mina is currently staying at Cascade for a week and working with Lizzi to freshen up some of her skills. I live in Oregon and will always drive 3.5 hours to Woodinville for Mina to stay at Cascade and work with Lizzi. The peace of mind is worth it. I trust Lizzi and the rest of the team to take care of Mina's unique needs.

I cannot recommend Lizzi, Cascade and the board and train program enough. It's made all the difference for us. I am so, so grateful.
Enroll in One of Our Dog Training Programs Today!
To schedule a training session, call us at 425-483-9333 or contact our trainer by filling out the form below.