Cascade Kennels offers both comprehensive and "a la carte" professional dog and cat grooming for all breeds and all sizes! Your pet's health, comfort, and safety are our top priority. We offer both a Basic Bath and a Full Groom for both cats and dogs. Prices for baths and haircuts vary depending on the size and type of pet and the specific services requested. For an estimate of our bath and haircut prices for your specific pet OR to book a grooming appointment give us a call at the office!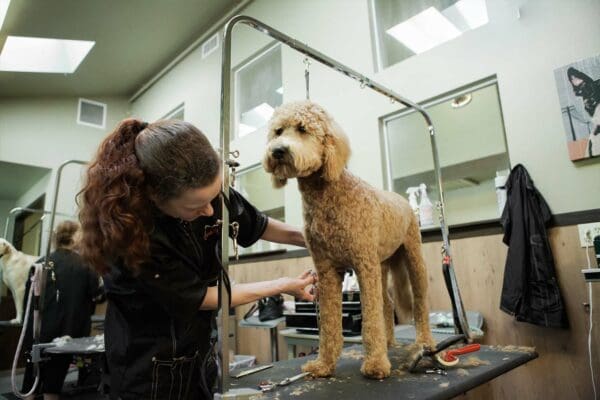 Basic Baths include:
Bath with our standard hypo allergenic shampoo
Ear Cleaning and Plucking
Checking Anal Glands
Nail Trimming
Trim Feet (if necessary)
Up to 20 minute Brush-Out
Available for both dogs and cats.
Full Grooms include:
Full haircut to your specifications
Bath with our standard hypo
allergenic shampoo
Ear Cleaning and Plucking
Checking Anal Glands
Nail Trimming
Trim Feet (if necessary)
Up to 20 minute Brush-Out
A La Carte Professional Dog Grooming Services
The Basic Bath includes nail clipping but nail trims are also offered as a stand-alone service for $15.
We'll smooth the edges of your dog's nails which helps prevent accidental scratches to their human friends and family (or to your hardwood floors). Nail Grinds are an additional $10.00 when added to a Basic Bath or Full Groom and $20.00 as a stand-alone service.
Special shampoos can be administered for an additional $5.00 including:
flea bath – gets those fleas out!
oatmeal –  exfoliating the skin
whitener – gets those white dogs bright white
degreaser – for those exceptionally dirty dogs
aromatic – for those exceptionally smelly dogs
various medicated shampoos to treat specific skin conditions
Does your dog develop stains around its mouth or below its eyes? We offer Blueberry Facials for $25.00 that exfoliate the skin and help reduce that staining.
Checking/Expressing Anal Glands
The Basic Bath includes checking the anal glands of dogs. Our staff will attempt to express the anal glands if it is feasible and appropriate. $10.00 as a stand-alone service.
Basic Baths and Full Grooms include up to 20 minutes of brushing out your pet's coat. Additional time brushing is $15 for each 15-minute increment. A la carte brush-outs are $1 per minute.
Minor de-matting is included with a Basic Bath or Full Groom. Major de-matting is provided at $15 for each 15-minute increment over the initial 20-minute brush-out/dematting period. We are careful to limit dematting to avoid harm or undue stress on your pet.
PlaqClnz® Dental Treatment
PlaqClnz® is an easy-to-use, zinc-based pet oral health care system that treats and helps prevent bad breath, plaque, tartar and gingivitis. Used regularly, it will help to keep your pet's breath fresh and protect against the early stages of periodontal disease. Our Salon administers the entire three-step system for $15.
If your dog or cat is a heavy shedder, a shed-less session may be just what you need. Special shampoo is applied during your pet's bath which helps loosen the shedding hair. The a thorough brushing with a de-shedding brush is then used to reach deep under the top layer of the fur to remove the loose under-coat and reduce future shedding. Our salon administers the full shed-less treatment for $15.00.
A Higher Standard for Professional Dog Grooming Services
Our groomers will discuss with you the health and condition of your dog or cat's coat and the services you would like us to perform.
Nails, Pads, Anal Glands, and Matting
We will trim your dog's nails, trim the hair around the foot pads, check the anal glands and attempt to express them if appropriate and remove large matted areas.
Comfortable and Cleansing Bath
Once your dog is prepped, he or she will be given a cleansing bath in hypo-allergenic shampoo and conditioner at the perfect water temperature for your dog. While in the bath, we will also clean the ears. Other shampoos available include oatmeal, medicated and flea shampoo.
We use the Prima Bathing System® to bathe your pet. Prima eliminates the haphazard, old-school method of applying shampoo by premixing shampoos at the proper water temperature. The Prima system reduces water usage by half and shampoo by up to 84%. It is also quicker thereby reducing the time your pet must stay in the tub. Most importantly, unlike some other bathing systems that re-circulate previously used water, Prima only mixes shampoo with clean, fresh water every time.
Brush, De-Matt, and Fluff Dry
Your pet will be thoroughly brushed and fluff dried before his or her haircut or other services. De-matting and additional brushing are also available for an additional charge as described above.
Our experienced dog groomers will work with you to determine the haircut and style best suited for your pet's breed including hand scissoring styles.
Your pet will be adorned with a seasonal bandana and then await your arrival.
Professional Dog Grooming Environment
Air Conditioning and Heating
Our salon is fully air-conditioned and heated to provide maximum comfort year-round.
We have an outdoor area, adjacent to our grooming salon, where dogs will be allowed to occasionally relieve themselves as they progress through the bathing or grooming process. While a potty break area may seem like an absolute requirement, many grooming salons located in retail shopping areas are not allowed space for this purpose.
We maintain the highest standards of cleanliness in our salon to keep everyone healthy and safe.
Our groomers have over 30 years of combined experience and will interact with your dog from start to finish. If you have a preference for one of our groomers, that person can be requested for future visits.
The Grooming Team at Cascade Kennels is knowledgeable and caring.
Not only will they provide the highest level of service, but they will also provide your pet with a relaxing and enjoyable experience.