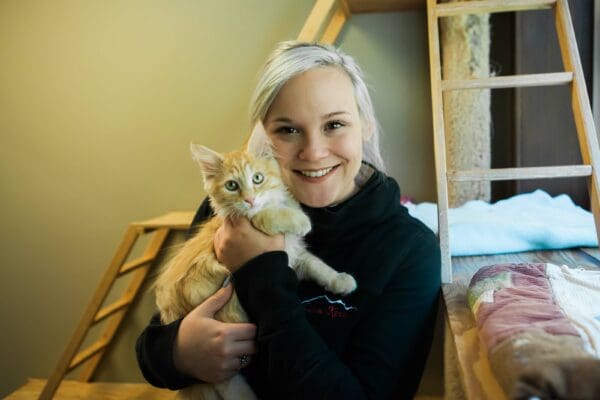 Our cat accommodations are located in a separate building to maintain their privacy. We have provided individual condos with three levels for exploring and a cozy nook for napping. Each condo unit is individually vented to ensure a continuous supply of fresh air. We have added a tropical fish tank with busy fish for their enjoyment. Soothing music and natural light from large skylights add to the peaceful atmosphere.
Each day your kitty will be given individual time in one of our kitty play rooms. Each room has a custom-built gymnasium to explore. The window perches overlook our large pond surrounded by birds and trees.
Please have your veterinarian fax your cat's current vaccination status to us at 425.487.6454 before your arrival. We reserve the right to accept or reject your cat from any of our services depending upon our review of its vaccination status.
Feline Leukemia
1 year or 3 year vaccine accepted
Rabies
1 year or 3 year vaccine accepted
FVRCP
1 year or 3 year vaccine accepted
Covers feline rhinotracheitis, calicivirus and panleukopenia
Our staff is full of energy! And, as a result, they love to have fun with your pets! Whether while being groomed, in a cuddling session, or spending time in the playroom, your pets are spending quality time with staff or other pets, or both! Happy pets make great boarders and our promise to you is our commitment to ensuring your pets are happy during their stay.
Our exceptional staff is the key to the high-quality standards of care that we set for ourselves. Part of what helps our staff give their very best every day is the way we structure our staffing. Rather than overloading our caregivers with excessive duties ranging from feeding to exercise to grooming, we have departments with specific focuses.
Our kennel technicians are responsible for maintaining our guests' comfort, health, and wellness. Their duties include feeding, medicating, attending to the cat's needs as they arise, taking detailed notes, and developing care plans. Our techs tend to our guests all day long and into the night. We require a high level of prior experience and knowledge for our kennel techs.
$30/Night → $33/Night Effective 9/5/23
Additional Cats: 15% off
Must be from the same family & boarded together in the same condo.
Day Boarding: $15/day → $16.50/day
Medication: $4/day
We are happy to administer daily medication (non-injectable) or vitamins for a small additional fee.
Injectable Medication: $10/day
We are happy to administer daily injectable medication or vitamins for a small additional fee.
Food Add-ons For Feline Guests
Scrambled Eggs – $5.00/meal
Chicken Breast – $5.00/meal