Hi Finley here,
Well, it's summer! My favorite time of year for so many reasons. First, I get to do more fun things with my human in the summer time because it's nice outside. Second, it's always more fun here at Cascade Kennels since more dogs come to see us and stay longer because their families go on vacations. Third, because I love to eat and one of the best things about summer is the summer treats I get to eat. I was sharing a treat with one of my friends the other day and we decided it would be good for me to share my favorite summertime treats with all of you on the blog. This way, your four-legged friends can enjoy them too!
FINLEY'S FAVORITE TREATS
Frozen Treats:
This first recipe I'm sharing is so easy! First you need one of these: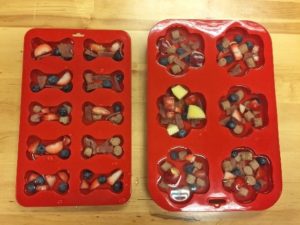 I'm not sure what they're called but your human will know! Next, all your human has to do is put food into the little bones or paws. They can put berries, or bananas, apple slices or kibble, turkey bacon or even a mixture of them all. Then all your human has to do is fill the bone and paws with water or chicken broth for an even tastier treat. Then they put it in the freezer and then I get to eat it later. It's so yummy. My human likes it because it's so easy to make and doesn't take a lot of time, plus it's healthy for me. I love it because, well because it just tastes so good and on a hot day it's very refreshing!
Source: Freshpet
Frozen Pumpkin Treats: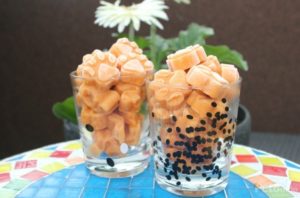 My next favorite are frozen pumpkin treats! Yes, you can get pumpkin even in the summer. My human tells me that pumpkin is good for my digestion, so that's why she likes to give me these. These are also really easy, really tasty and you can use the same fun tray up above! Here's how you make these pumpkin treats:
Yogurt
Honey
Pumpkin
Banana
Blend them all together, put them in the fun trays and freeze them!
Blueberry & Yogurt Frozen Dog Treats:
Whisk together 4 ounces of yogurt and 4 ounces of water for the base. Add more yogurt and reduce the water if you want a creamier treat with more calories.
Pour into one row of 5 wells, leaving a generous amount of room for the blueberries.
Add blueberries to each well until the mold is almost filled (the pupsicle will expand as it freezes, plus it's nice to have a little extra space to protect from spills).
And Here's the Peanut Butter Version! YUM!!!
Put 4 ounces of peanut butter in your liquid measuring cup (eyeballing a big glob is fine).
Add 3 ounces of water and 2 ounces of yogurt to reach 9 ounces.
If you have leftover yogurt and water mixture, add that and adjust accordingly.
Will it blend? Great. If not, add a little more water until you reach a pourable consistency.
Pour into your second row of wells. If the batter is a little sloppy, you can use a spoon, add more water and blend more, or just clean up the tray afterwards. We won't tell.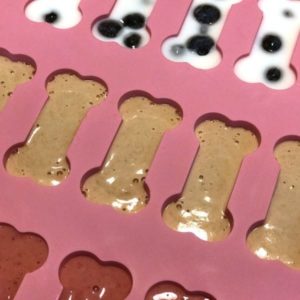 Source: Daily Treat
Just remember, that like humans, us dogs like cold treats when it's hot outside. Just make sure when you make your frozen treats you fill them with things that are healthy and safe for your dogs.
Happy Summer and Happy Eating!
Until Next Time,
Finley
Quality Canine Control Officer